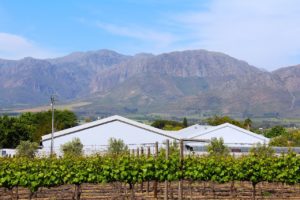 12th Annual Society for Ricoeur Studies Conference
May 23-25, 2018
Stellenbosch, South Africa
Call for Papers
The Society for Ricoeur Studies is pleased to announce the theme of the 2018 conference: "From where do you speak?" The conference will be co-hosted by Stellenbosch University's Department of Philosophy and Faculty of Theology. We are pleased to announce that the SRS keynote speakers are Pumla Gobodo-Madikizela, Morny Joy, Bernard Lategan, Damien Tissot, Marlene van Niekerk and Ernst Wolff.
From where do you speak?
From where do you speak? Paul Ricoeur famously began his seminars by posing this question to his students: D'où parlez-vous? With reference to the scope and depth of Ricoeur's thought his recurring question can be read in many different ways.
'From where do you speak?', firstly, is a reminder that we always speak from somewhere; that speaking, thinking, acting and suffering are always situated and contextual. This may well be a timely question to pose at the 2018 Society for Ricoeur Studies Conference which, for the first time, will take place on African soil; in Stellenbosch, South Africa. In such a context, Ricoeur's question becomes an invitation to reflect on and give an account of the often unacknowledged topoi from which we speak. In particular, raising this question in South Africa may become an occasion for scholars from various African contexts to reflect on the reception of Ricoeur's work over many years, in diverse cultural, religious and linguistic traditions, in response to a variety of contextual challenges and opportunities, within and between a wide range of disciplines and theoretical vantage points. Similarly, scholars from every region of the world could come to confront each other with new ways of thinking with Ricoeur, beyond Ricoeur.
'From where do you speak?', secondly, introduces the question of a hermeneutics of place and space, which gives rise to countless questions related to phenomenology and historical spatial paradigms (topos, spatium, Lebenswelt), narrative and symbolic space, memory and moral space, architecture and the poetics of space, social imaginaries and geo-politics, justice and globalisation, phronesis and the environment, recognition and displacement, technology and the ascent of virtual space. Certainly, the question of 'where' should also be heard as an inquiry about time, temporality and history. Seemingly spatial categories like 'utopia', 'retrotopia' and 'nostalgia' in fact also denote a specific relationship to time, and have – in our time – acquired a particular relevance.
'From where do you speak?' thirdly, can be heard as a sign of Ricoeur's profound awareness that speaking literally takes place (a lieu), that no interpretation of the said can ever fully account for the event of speaking that takes place when someone says something to someone about something. It asks that hermeneutics be supplemented with a rhetorics that is attentive to the relationships between meaning and (asymmetrical) constellations of power and agency. In addition, it calls forth a renewed attentiveness to performativity, for the ways in which sense and sense-making arise from the lived world of embodied acts, gestures and rituals.
In the fourth instance, it is quite possible to imagine Ricoeur asking 'from where do you speak?' in a rhetorical sense, challenging us to confronting the ironies and ambiguities of selfhood, identity, memory and agency. What type of answer, we may ask, would be appropriate? A narrative, perhaps, but how and what do we narrate? What remains unsaid? What gets recalled, and what forgotten? Who speaks? Is speaking and acting always on time and in place? What if the question is a way of putting someone in their place? Silence?
Finally, 'from where do you speak?' might provoke the 'addressee' to respond with an alternative question that in some contexts may be more appropriate and even urgent: Who's listening? Can you hear me from where I am calling? We live in times in which the demand to listen is felt with ever greater urgency. But what could this mean? Or rather, how do we listen better? Scholars attending the 2018 Society for Ricoeur Studies Conference might also reflect on Ricoeur (who often confessed himself to be a listener) and the art of listening. "To confess that one is a listener," Ricoeur wrote in an essay called Naming God (1979), "is from the very beginning to break with the project dear to many, and even perhaps all, philosophers: to begin discourse without any presuppositions."
With Ricoeur's question in mind, we welcome submissions that address the influence of Ricoeur's thought inside and outside the discipline of philosophy.
Papers
Please submit an abstract of approximately 300-500 words without any author-identifying information. In your email, please include the paper's title, the author's name, institutional affiliation, mailing address, and email address. Abstracts and papers may be in English or French. Please note that finished papers should be no longer than twenty minutes when read aloud (roughly 3000 words).
Panels
Proposals for a panel discussion of a theme, a book, or an author related to Ricoeur are also welcome. The proposal should include a brief description (300-500 words) of the topic, the names of the panel members, and, as a separate document, the abstracts for each presentation (300-500 words). Panels will last for a period of 1 hour 30 minutes (or what comes to 3 x 20 minute presentations with 30 minutes of discussion). In your email, please include the panel's title along with the panel members' names, institutional affiliations, mailing addresses, and email addresses.
New Scholars and Graduate Students Roundtable
New scholars and graduate students are encouraged to send in an abstract (300-500 words) for a panel around the theme of the conference, or any other theme related to the work of Paul Ricoeur. We intend to ask scholars visiting the conference to act as respondents to the papers.
Submissions
Submission deadline: 20 November 2017.
Send submissions to: Please send the abstracts to Judy-Ann Cilliers (jacilliers@sun.ac.za).
Abstracts and panel proposals will be reviewed blind by an academic committee.
Notification of acceptance will be given via email by 15 December 2017.
Abstracts and panel proposals accepted for conference presentations will be published on the Society's website prior to the conference. If you prefer not to have your submission published there, please inform Judy-Ann in your submission email.
Additional Information
Information regarding conference fees and hotel accommodations will be published on the Society's website in the near future.
Questions regarding the conference can be addressed to either of the following of conference organizers: Prof. Robert Vosloo (rrvosloo@sun.ac.za), Prof. Louise du Toit (louisedt@sun.ac.za), Mr. Helgard Pretorius (helpret@sun.ac.za), or Ms. Judy-Ann Cilliers (jacilliers@sun.ac.za).
12ème Conférence annuelle de la Société des Etudes ricoeuriennes
23-25 mai 2018
Stellenbosch, Afrique du Sud
Appel à contributions
La Société des Etudes ricoeuriennes a le plaisir d'annoncer le thème de la conférence de 2018 : « D'où parlez-vous ? » La conférence sera accueillie par le Département de Philosophie et la Faculté de Théologie de l'Université de Stellenbosch. Nous sommes heureux d'annoncer que les intervenants keynotes sont Pumla Gobodo-Madikizela, Morny Joy, Bernard Lategan, Damien Tissot, Marlene van Niekerk et Ernst Wolff.
D'où parlez-vous ?
D'où parlez-vous ? Paul Ricoeur était connu pour commencer ses séminaires en posant cette question à ses étudiants : D'où parlez-vous ? En s'appuyant sur l'étendue et la profondeur de la pensée de Ricoeur, cette question récurrente peut être lue de bien diverses façons.
« D'où parlez-vous ? », tout d'abord, nous rappelle que nous parlons toujours de quelque part ; que parler, penser, agir et souffrir se font toujours en situation et en contexte. La question peut se poser opportunément lors de la Conférence de la Société des Etudes ricoeuriennes de 2018, qui se tient pour la première fois sur le sol africain ; à Stellenbosch, en Afrique du Sud. Dans un tel contexte, la question de Ricoeur devient une invitation à penser et rendre compte des topoi, souvent non reconnus, d'où nous parlons. En particulier, soulever cette question en Afrique du Sud peut offrir à des universitaires de contextes africains variés l'occasion de réfléchir à la réception du travail de Ricoeur au cours de nombreuses années, dans diverses traditions culturelles, religieuses et linguistiques, en réponse à une variété de défis et d'opportunités propres à un contexte, parmi et entre une vaste gamme de disciplines et de points de vue théoriques. De même, des universitaires de toute région du monde peuvent venir se confronter avec de nouvelles manières de penser avec Ricoeur, au-delà de Ricoeur.
« D'où parlez-vous ? », deuxièmement, introduit la question de l'herméneutique du lieu et de l'espace, qui soulève d'innombrables questions liées à la phénoménologie et aux paradigmes historico-temporels (topos, spatium, Lebenswelt), au narratif et à l'espace symbolique, à la mémoire et à l'espace moral, l'architecture et la poétique de l'espace, les imaginaires sociaux et géo-politiques, la justice et la globalisation, la phronesis et l'environnement, la reconnaissance et les migrations, la technologie et la montée de l'espace virtuel. Certainement, la question du « où » devrait aussi être entendue comme une interrogation sur le temps, la temporalité et l'histoire. Il semblerait que des catégories spatiales comme « utopie », « rétrotopie » et « nostalgie » dénotent aussi, en fait, une relation spécifique au temps et ont – à notre époque – acquis une pertinence particulière.
« D'où parlez-vous ? », troisièmement, peut être entendu comme le signe de l'attention profonde de Ricoeur au fait que parler a lieu, littéralement, dont nulle interprétation du dit ne peut rendre compte pleinement de l'évènement où quelqu'un dit quelque chose à quelqu'un à propos de quelque chose. C'est un appel à renforcer l'herméneutique par une rhétorique attentive aux relations entre la signification et les articulations (asymétriques) entre pouvoir et agent. C'est également une invitation à porter une attention renouvelée à la performativité, à cause des manières dont le sens et la production de sens proviennent du monde vécu d'actes, de gestes et de rituels incarnés.
Quatrièmement, il serait tout à fait possible d'imaginer Ricoeur demander « d'où parlez-vous ? » dans un sens rhétorique, nous engageant à nous confronter aux ironies et aux ambiguïtés du soi, de l'identité, de la mémoire et de la capacité à agir (agency). Quel type de réponse, pouvons-nous demander, serait approprié ? Une narration, peut-être, mais comment et que racontons-nous ? Qu'est-ce qui reste non dit ? Qu'est-ce qui est retenu, et qu'est-ce qui est oublié ? Qui parle ? Parler et agir …. (pas clair pour moi) ? Et si la question était une façon de remettre quelqu'un à sa place ? Silence ?
Finalement, « d'où parlez-vous ? » peut inciter le destinataire à répondre par une question alternative qui peut s'avérer dans certains contextes plus appropriée et même urgente : Qui écoute ? Pouvez-vous m'entendre d'où j'appelle ? Nous vivons à une époque où l'on ressent le besoin d'écoute avec une urgence grandissante. Mais qu'est-ce que cela pourrait signifier ? Ou plutôt, comment écoutons-nous mieux ? Les universitaires participant à la Conférence des Etudes ricoeuriennes de 2018 pourraient aussi réfléchir à Ricoeur (qui a souvent confessé être un homme d'écoute) et l'art d'écouter. « S'avouer auditeur, écrivait Ricoeur dans un essai de 1977, intitulé 'Entre philosophie et théologie II : nommer Dieu', c'est, d'entrée de jeu, rompre avec le projet cher a tel philosophe – peut-être à tout
philosophe – de commencer le discours sans présuppositions. »
Avec la question de Ricoeur à l'esprit, nous accueillons toutes les propositions qui portent sur l'influence de la pensée de Ricoeur au sein et en dehors de la discipline philosophique.
Présentations
Vous êtes prié de soumettre un résumé d'environ 300 à 500 mots qui ne contienne aucune information permettant d'en identifier l'auteur. Veuillez inclure à votre e-mail le titre de l'article, le nom de l'auteur, son affiliation institutionnelle, son adresse postale et électronique. Les résumés et articles peuvent être en anglais ou en français. Veuillez noter que la présentation orale des articles complets ne devrait pas excéder vingt minutes (environ 3000 mots).
Débats
Les propositions de débat sur un thème, un livre ou un auteur lié à Ricoeur sont également les bienvenues. La proposition devra inclure une brève description (300 à 500 mots) du sujet, le nom des participants au débat et, dans un document séparé, le résumé de chaque présentation (300 à 500 mots). Les débats dureront une heure et demie (ce qui revient à trois présentations de 20 minutes suivies d'une discussion de 30 minutes). Veuillez inclure dans votre e-mail le titre du débat ainsi que le nom des participants au débat, les affiliations institutionnelles et les adresses postales et électroniques.
Table ronde pour les nouveaux universitaires et les étudiants avancés
Les nouveaux universitaires et les étudiants avancés sont encouragés à envoyer un résumé (300 à 500 mots) pour un débat autour du thème de la conférence ou tout autre thème ayant trait au travail de Paul Ricoeur. Nous avons l'intention de demander aux universitaires assistant à la conférence de répondre aux présentations.
Soumissions
Date limite de soumission : 20 novembre 2017.
Envoi des soumissions : Veuillez envoyer les résumés à Judy-Ann Cilliers (jacilliers@sun.ac.za).
Les résumés et propositions de débats seront évalués anonymement par un comité scientifique.
Une notification d'acceptation sera envoyée par mail autour du 15 décembre 2017.
Les résumés et les propositions de débats acceptés pour la conférence seront publiés avant la conférence sur le site internet de la Société. Si vous préférez que le vôtre ne le soit pas, veuillez en informer Judy-Ann dans votre envoi de soumission.
Informations supplémentaires
Des informations sur les frais de la conférence et l'hébergement en hôtel seront publiées prochainement sur le site internet de la Société.
Les questions portant sur la conférence peuvent être envoyées à l'un des organisateurs de la conférence suivants : Prof. Robert Vosloo (rrvosloo@sun.ac.za), Prof. Louise du Toit (louisedt@sun.ac.za), Mr. Helgard Pretorius (helpret@sun.ac.za), ou Ms. Judy-Ann Cilliers (jacilliers@sun.ac.za).
Please follow and like us: